Editor's note: Here is a look at immigration-related news around the U.S. this week. Questions? Tips? Comments? Email the VOA immigration team: ImmigrationUnit@voanews.com.
Texas County's Heat, Brushy Terrain Deadly for Border-Crossing Migrants
The U.S. Border Patrol has recorded more than 8,000 migrant deaths along the U.S.-Mexico border since 1998. VOA immigration reporter Aline Barros visited a South Texas county with a high number of migrant deaths.
Federal Judge Hears DACA Case; Ruling Months Away
The future of a federal policy that protects from deportation hundreds of thousands of immigrants brought to the U.S. as children is in federal court. U.S. District Judge Andrew Hanen heard arguments Thursday in Texas v. United States, a case brought by nine Republican-led states aimed at halting the Deferred Action for Childhood Arrivals program. He is to decide on the legality of the DACA rule issued by the Department of Homeland Security in 2022 that tried to fortify the program and correct Hanen's earlier objection to DACA. VOA immigration reporter Aline Barros reports.
US Expands Slots for Asylum App at Land Crossings as Demand Overwhelms Supply
U.S. authorities on Thursday expanded slots to seek asylum at land crossings with Mexico through a mobile app for the second time in less than a month, seeking to dispel doubts it isn't a viable option. There are now 1,250 appointments daily at eight land crossings, up from 1,000 previously and 740 in early May. The Associated Press reports.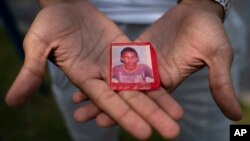 Mohamed, a 19-year-old fleeing political persecution in Mauritania, holds a picture of himself as a child, May 22, 2023, outside the Crossroads Hotel in Newburgh, N.Y.
Seeking Asylum and Work, Migrants Bused Out of NYC Find Hostility
Before he left Mauritania, the West African nation of his birth, Mohamed thought of New York as a place of 'open arms,' a refuge for immigrants fleeing dire circumstances. Mohamed is one of about 400 international migrants the city has been putting up in a small number of hotels in other parts of the state this month to relieve pressure on its overtaxed homeless shelter system. Some of the relocated asylum-seekers say they now regret leaving the city, pointing to a lack of job opportunities and resources to pursue their asylum cases, as well as a hostile reception. The Associated Press reports.
52 Documentary: During the past decades, many Iranian LGBTQ+ refugees made Turkey their new home and found a community. Leo, a gender-fluid belly dancer, is one of these asylum-seekers. She performs and teaches dancing by night and regularly attends protests in Istanbul in front of the Iranian Consulate. Despite the Islamic Republic's ban on women dancing publicly, Leo's made a thriving career out of her passion, in Turkey.
Immigration around the world
Anti-Refugee Rhetoric, Forced Deportations of Syrians Increase in Lebanon
As many as 1.5 million Syrian refugees have fled death and destruction engulfing their homeland by crossing into Lebanon. Their presence has drawn more hostility from Lebanese since the country's economic crisis came to a head in 2019. Dale Gavlak reports from Jordan.
'Nothing Left': Refugees Describe City Demolished by Fighting in West Darfur
Intercommunal violence and fighting between Sudanese armed forces and the paramilitary Rapid Support Forces in West Darfur state have intensified in recent days, according to reports. Witnesses who escaped the city of Geneina say their hometown is being ripped apart. Henry Wilkins reports from Adre, Chad.
Cholera Catastrophe Looming at Kenya Refugee Camp, Aid Group Warns
Health care providers in Kenya's Dadaab refugee camp say an ongoing cholera outbreak is becoming a looming catastrophe. Doctors Without Borders has described the six-month-long cholera outbreak as the worst yet, amid an influx of new refugees from Somalia. Produced by Victoria Amunga
Call for Better Mental Health Support for Rohingya Refugees in Bangladesh, After Cyclone Mocha
On a cold evening, after completing her maghreb (post-sunset) prayer, a woman holds her children close to keep them warm with her threadbare scarf. They sit huddled together outside a now-dilapidated shelter made of bamboo sticks and plastic sheets - their home. Shielded from her children's gaze, the mother of two lets tears slip down her face. Produced by Sarah Aziz.
Relocated Refugees in Malawi Decry Dehumanizing Conditions
In Malawi, hundreds of people who were forcibly relocated to the country's only refugee camp are complaining of poor conditions with no food, clean water or shelter. The U.N.'s refugee agency and the World Food Program say they cannot cater to the needs of those at the highly congested camp because of funding shortfalls. Produced by Lameck Masina.
News Brief
- After 32 years of service to the United States Border Patrol, Chief Raul L. Ortiz announced his retirement. "Chief Ortiz tackled some of the biggest challenges the Border Patrol has had to face. He managed the critical transition out of the COVID-19 pandemic and into the enforcement of our traditional immigration authorities under Title 8 of the United States Code," Secretary of Homeland Security Alejandro N. Mayorkas wrote in a statement.